24 May

Boot Barn Tops Guidance On Double-Digit Comp Growth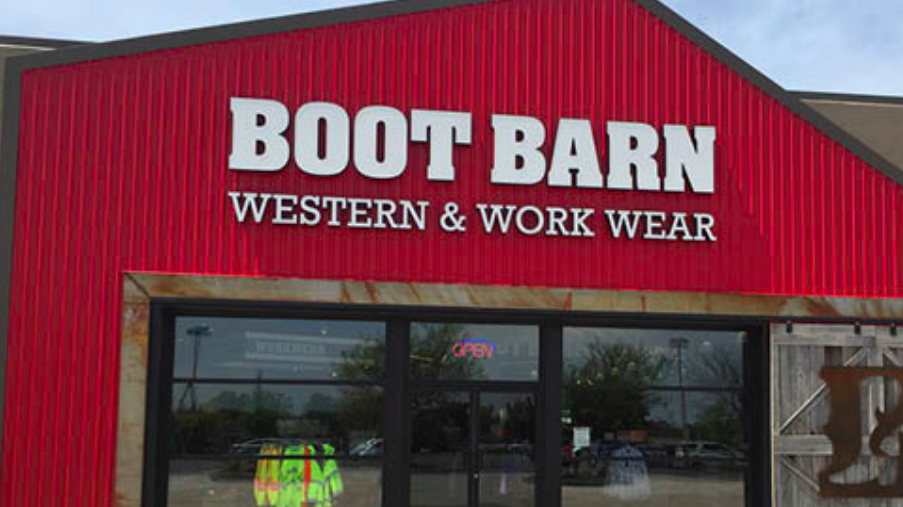 Boosted by significant improvement in the retailer's ladies business and the roll out a new performance-boot platform, Boot Barn reported same-store sales grew 12.1 percent in the fourth quarter ended March 31 while earnings came in well ahead of guidance.
Earnings more than doubled to $6.9 million, or 24 cents per share, compared to net income of $2.6 million, or 10 cents, a year ago. Guidance had called for earnings between 15 cents to 16 cents.
The bottom line was also boosted by 90 basis points of merchandise margin due to more full-price selling, fewer promotions and an increase in exclusive brand penetration. Gross margins improved to 31.0 percent from 30.3 percent a year ago.
SG&A expenses were 24.4 percent of sales compared to 25.3 percent a year ago. Excluding $1.2 million of store impairment charges in the prior-year period, adjusted SG&A was 24.4 percent of sales compared to 24.6 percent in the same period a year ago. The slight decline was attributed to increased sales that offset higher compensation expense and additional costs for both new and acquired stores.
"Comps were up double-digits in our retail stores and have now been positive for four consecutive quarters," said Jim Conroy, president and CEO, on a conference call with analysts. "E-commerce comps returned to positive territory and were up double-digits in the quarter as well."
For the full year, same-store sales grew 5.2 percent, merchandize margin expanded 50 basis points, operating margin improved 80 basis points, and net earnings doubled.
"Our merchandising and marketing initiatives drove topline gains in most regions of the country and strengthened our position as the leading western and work retailer in the U.S.," said Conroy. "From a merchandizing perspective, we made significant improvement in our ladies business and rolled out a new performance boot platform to bolster our private brands portfolio."
He added, "With regard to marketing, we enhanced our branding to improve creative, adjusted our media mix and began radio intelligent advertising on a national basis. As it relates to our Omni channel initiative, we continue to invest in our e-commerce platform and our fulfillment center."
Conroy said the same-store growth in the quarter driven by broad-based growth across the chain with "very strong" growth in Texas but also solid growth across most of the country, particularly in California, Arizona, New Mexico and Tennessee. Every major product category posted positive results for the quarter year-over-year and improved sequentially from the growth rates experienced during the holiday season.
"Work apparel and work boots continue to grow benefitting to some extent from a healthier microenvironment," said Conroy. "Western Apparel both men's and ladies also showed strong growth. We believe the straight in Western apparel is due in part to the ongoing investments we've made in merchandising and marketing."
CRM analysis is providing Boot Barn with a better understanding of customer buying habits and helped the retailer identify three customer personas: Core Western, Work and Wonder West, which is younger, more fashion forward and more female than the other categories.
"Through enhanced CRM analytics, we've been able to determine the customer overlap of these segments and as a result have augmented our marketing strategy, particularly as it relates to email and direct mail to properly target each customer group.," said Conroy. "We believe this more focused marketing approach is enabling us to drive incremental sales with existing customers and also attract new customers, while providing efficiencies in our marketing spend."
At the store level, a new labor scheduling system is enabling the chain to better optimize worker hours.
For the current year, key growth initiatives include further optimizing its media mix as its national footprint expands, customizing its media mix for each consumer segment, building on recent momentum seen in denim, and the addition of private-label lines. Private brands represented 13.5 percent of sales last year and added 1000 basis point of additional margin compared to sales of branded merchandise. At the store level, investments in associate training platforms are being made to increase product knowledge and customer service skills.
Online, the company's three websites, bootbarn.com, Sheplers.com and countryoutfitter.com, remain segmented to attract unique audiences but are able to share inventory. John Hazen, most recently at Ring, the video door company, but also with experience at True Origin, Fox Racing and Hurley, has been hired as Boot Barn's new chief digital officer.
Expansion-wise, the retailer added nine locations last year to finish with 226 and expects to add 23 in the current year, including the recent acquisition of Lone Star Western & Casual, a three-door chain outside of Dallas.
"Turning to current business. we are now at the halfway point of the first fiscal quarter, and the sales trend has continued from the prior quarter, with solid margin performance," said Conroy. "As with the prior quarter, our sales performance is strong across all categories and most geographic regions. In summary, it was a really terrific year for Boot Barn, and we are confident that the progress we have made expanding our presence, both physically and online, have led to additional market share gains and further strengthened our industry-leading position."
For the current year, same store sales growth is expected in the mid-single digits and EPS to land between 92 cents to $1.02, which compares to 55 cents just reported.
For the first quarter, Boot Barn is forecasting same store sales growth of approximately 10 percent and EPS in the range of 10 cents to 12 cents. That compares with 3 cents in the year-ago first quarter.