09 Nov

Breaking News: Reebok x Victoria Beckham Collection

Reebok announced today a pivotal partnership with fashion powerhouse Victoria Beckham.

The British designer will join Reebok's coalition of unapologetically accomplished women – including Ariana Grande, Gigi Hadid, Aly Raisman and Teyana Taylor, among others – to push new boundaries in the brand's long-time mission of empowering women to be their best. The long-term partnership with Beckham will kick off with the Reebok x Victoria Beckham collection.

Beckham has powerfully reinvented herself as a fashion and cosmetics icon with a loyal following inspiring confidence, power and strength since her early years as a singer in the pop rock group Spice Girls.

Reebok, too, shares this commitment with its longstanding history leading the charge of the women's fitness movement since the 1980s and continuing to push boundaries for women with its bold partnerships and marketing campaigns, innovative product designs specifically for women.
"As a brand, we look to partner with not just influential women, but women who want to truly change the world. There's no better embodiment of this than Victoria. She is a true visionary who possesses a relentless desire to help women become the best version of themselves. This desire shines through in everything she touches, especially her designs, which continue to push industry standards season after season. We cannot wait for the world to see what she will do with our collaboration." – Corinna Werkle, Senior VP, Women's Initiatives, Reebok
Spotted earlier today in Reebok's understated Club C sneaker, Victoria unveiled the news just moments ago on Instagram in a video to her fans from Reebok's new Global Headquarters in Boston, pictured below.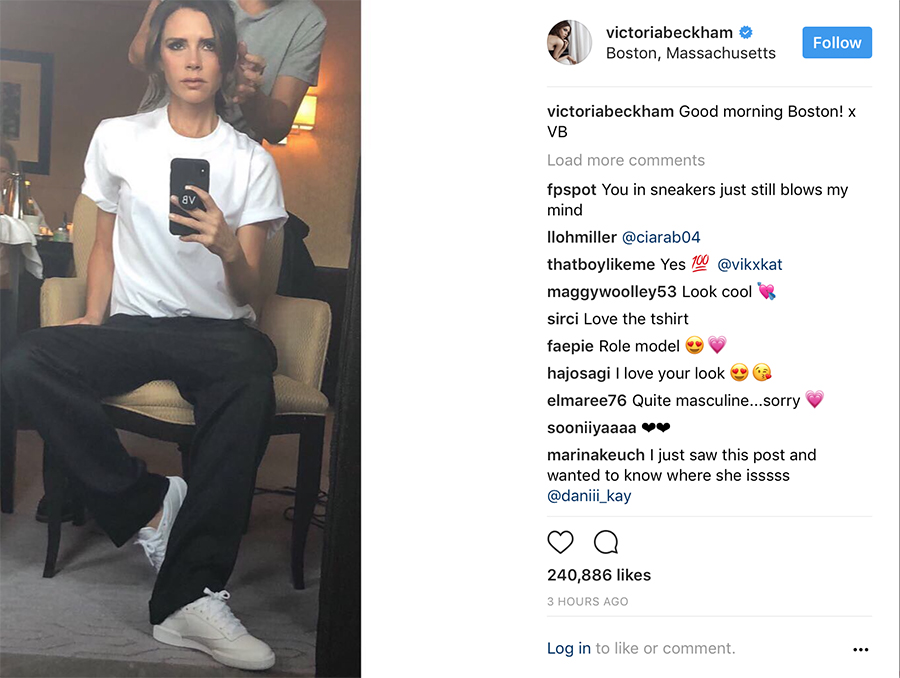 "I am incredibly excited to embark on this partnership built on shared values. I have always championed instilling confidence in women, and Reebok is a brand that has been at the forefront of this same message for decades. To have the opportunity to challenge the traditional notions of fitness wear within a fashion context is something I have always wanted to do. I have long incorporated sportswear into my wardrobe and daily life, and I am thrilled to be coming together with Reebok on such a dynamic proposition." – Victoria Beckham
The Reebok x Victoria Beckham collection will be introduced in late 2018 and will sit in the Reebok Innovation Collective – a brand initiative that focuses on developing footwear and apparel that delivers the next generation of performance and expression, from conceptual runway designs to tech-driven products sold at retail.