17 May

Champion Projected To Reach $2B In Sales By 2022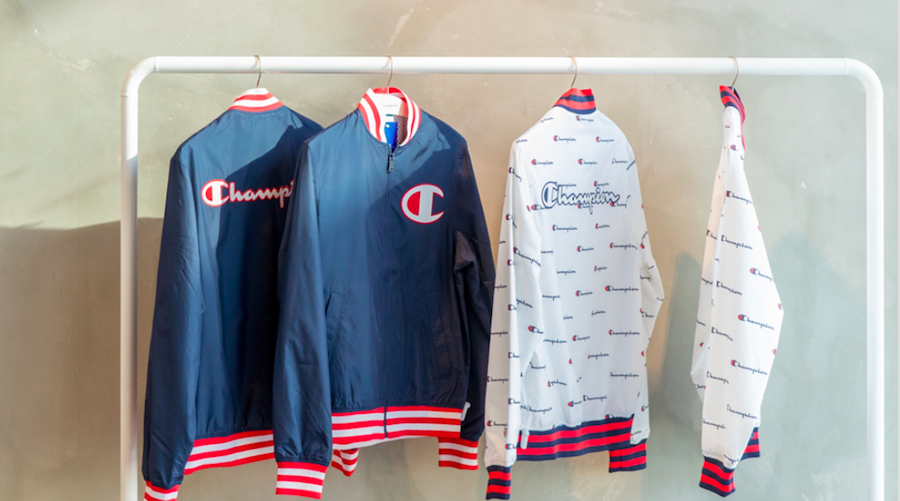 At the company's Investor Day Meeting on Tuesday, HanesBrands' officials set a goal of having Champion's global sales reach more than $2 billion by 2022. The growth is expected to driven by expanded lifestyle offerings spurred on by the company's newfound cachet in fashion circles, aggressively expanding direct-to-consumer and expanding Champion's geographic reach.
Last  year, Champion's sales were $1.4 billion, up from $600 million in 2010. The acquisition of Champion Europe in June 2016 helped drive that growth, but the brand has been seeing renewed momentum over the last few years, in part to the successful relaunch of the Champion Reverse Weave in 2016 and a trend towards 90s styling. The near-term goal is for Champion to continue to drive double-digit global revenue growth.
At the event, Susan Hennike, president, Champion North America, outlined three key global strategies for Champion:
Drive core business and expand distribution
Grow consumer-directed sales
Expand into new geographies
Addressing the core business and expanded distribution opportunities, Hennike said marketing has been particularly paying off for Champion. The brand has a four-prong marketing focus on influencer outreach and PR, with placements on sites such as Hypebeast and Esquire, collaborations with Supreme, Todd Snyder, Kith and others, digital and social investments and owned retail.
Socially, Champion's Instagram followers have grown to 2.6 million in April 2018 from 2 million at the year's start, 1.2 million last October and only 200,000 in January 2017. Champion.com's year-to-date results showed online traffic growing 95 percent; mobile expanding 124 percent, new customers moving up 77 percent and sales growth year-over-year ahead 59 percent. Key brand equity measures (i.e., brand I prefer, for someone like me, better quality, fits better than others) are rising among all ages, but the brand is particularly strong in the 18 to 35 age group, Hennike said.
Unpaid influencers that only wear product sent to them have included Chance the Rapper, Selena Gomez, Bruno Mars and Justin Beiber. Key collaborations with Kith, Supreme, Off-White and Todd Snyder have also brought some fashion cache to the brand and helped maintain buzz.
Among the targets for Champion in the company's core business is to better balance of lifestyle versus performance offerings across geographies. The performance-to-lifestyle ratio for Champion in the U.S., for instance, is 56 percent to 44 percent and the goal by 2022 is to adjust that to 40 percent performance and 60 percent lifestyle. Internationally, the lifestyle-to-performance ratio is 91 percent to only 9 percent and that's expected to shift to 75 percent to 25 percent.
Hennike said Champion will work to leverage Champion across price point levels in addressing the athletics, lifestyle and premium channel as part of an elevated retail distribution strategy.
Joe Monahan, VP and chief commercial officer, Champion Europe, discussed Champion's opportunity to expand consumer-direct. The overall goal is to lift Champion's consumer-direct sales to 40 percent of the business by 2022, up from 27 percent in 2017.
Champion's consumer-direct business has expanded at a 61 percent CAGR globally over the last three years with online expanding 34 percent and own stores growing 90 percent over those years.
By region, the U.S. makes up 13 percent of the Champion's sales online versus only 3 percent coming from the its  own stores. The brand opened the Champion's first full-price stores in Los Angeles this past April but has some outlets. In Europe, online only makes up 2 percent of sales with own stores making up a majority of the region's business for Champion, at 52 percent. In Asia, online makes up 7 percent of sales versus 18 percent for own stores.
Champion has 96 stores across Europe and 52 in Asia with the acquisition of Champion Europe, particularly adding Champion brands with some expertise in retailing.
Champion will focus on a mix of formats in expanding consumer direct with an emphasis on a partner model. Beyond the first U.S. full-price location, the first women's-focused concept, Champion for Her, opened in Tokyo in March 2018 and the first location in China opened in Hangzhou last September.
Online, the focus is on pure-play websites such as Amazon, Zalando and T-Mall. In North America, pure play is particularly standing out with a 35 percent three-year CAGR. Another key growth focus is click & mortar, with sites such as Urban Outfitters and Foot Locker, as well as Champion's own sites. Online is also seen as a way to extend the its successful line partnerships with collaborations such as Off-White and Beams. In Europe, adding local languages and currencies is expected to particularly support online growth. In Asia, Japan is seeing a 38 percent CAGR on the Champion website, but growth online overall will be supported by the launch of e-commerce sites in China, South Korea and Thailand.
Tomohiko Hirano, Champion's VP managing director, Commercial Asia, addressed Champion's goals diversifying geographically. In North America, Champion's goal is to expand sales in the Canada/Mexico area from 2 percent in 2017 to 10 percent by 2022. In Europe, the "Big Five" countries (France, Germany, Spain, Italy and the U.K.) currently make up 59 percent of sales and that's expected to climb to 70 percent by 2022. France currently makes 35 percent of Champion's sales. In Asia, sales outside Japan currently make up only 22 percent of sales and that's expected to expand to 40 percent by 2022.
Expansion in Asia is expected to particularly be supported by the expansion of Japan's store base from 26 to more than 50 and Other Asia from 27 currently to more than 200 by 2022.
Addressing the overall Activewear segment, John Marsh, group president, global activewear, recounted how the Activewear business has been transformed over the last decade through a number of acquisitions: Gear for Sports in November 2010, Knights Apparel in April 2015, Champion Europe in June 2016, GTM in September 2016 and Alternative Apparel in October 2017.
At the same time, the Activewear segment exited private label in 2012, set up a Graphic Art Center of Excellence in 2013, organized for online expansion in 2015, expanded commercialized digital printing capabilities in 2016 and internalized Champion's Japan licensee, also in 2016.
As a result, Marsh said the Activewear has been repositioned away from commoditized products to better brands and channels, led by Champion. Private label has gone from 7 percent of the Activewear mix in 2010 to zero currently and distribution has shifted from a local to a more global focus with the acquisition of Champion Europe. That acquisition also helped shrink its sales to the wholesale/distributor channels to 68 percent last year from 94 percent in 2010.
At the same time, Activewear's operating margin in the U.S. region has improved to 16 percent of sales last year from 6 percent in 2010.
Internally in the Activewear segment, Champion made up 63 percent of the Activewear segment's sales globally in 2017 versus 18 percent for the American Casualwear segment and 19 percent for Sports Apparel. Beyond Champion, the segment's two key brands include Alternative Apparel, targeting the eco-conscious fashion basics consumer, and Hanes' non-innerwear offerings.
Marsh said the acquisitions of Gear for Sports, Knights Apparel and GTM have all helped expand Champion's offerings to new channels, such as college and high school campuses, while offering new graphics scalabilities and talent.
The acquisition of Alternative Apparel added a new brand to the Activewear portfolio to grow through existing channels, a new lifestyle merchant team and newer channels such as college and resort.
Companywide, officials at the meeting said immediate priorities for the company include continuing to drive double-digit global revenue growth for Champion and the online/consumer-direct channel, returning the U.S. Innerwear business to growth, capturing the remaining synergies and ending integration charges for prior acquisitions and reducing the company's net debt-to-EBITDA ratio
During the presentation, Hanes CEO Gerald W. Evans Jr. noted that since the company's last Investor Day four years ago, the company has transformed itself from a U.S.-centric business supported by a global supply chain into a global basic apparel leader through a number of acquisitions with commercial operations in the Americas, Europe, Asia and Australia that more fully leverage the company's global supply chain.
"We have expanded our brand portfolio, diversified our business internationally and across channels and increased the leverage of our powerful global supply chain to deliver more consistent organic growth and higher cash-flow generation," said Evans Jr. "We have a lot of momentum and are re-energizing our Sell More Spend Less Generate Cash strategy to unleash our full potential for shareholder value."
HanesBrands also reaffirmed the company's full-year 2018 guidance issued May 1.
The company continues to expect full-year 2018 net sales of $6.72 billion to $6.82 billion with total sales growth expected to be 4.6 percent and organic growth to be 1 percent. GAAP operating profit is projected to come in the range of $870 million to $905 million, adjusted operating profit excluding actions to range from $950 million to $985 million, GAAP EPS between $1.54 to $1.62, adjusted EPS excluding actions between $1.72 to $1.80 and net cash from operations between $675 million to $750 million.
During the Investor Day event, CFO Barry Hytinen said that for 2020, HanesBrands is targeting Base Plan sales of $7.1 billion. At that level, total CAGR growth is expected to be 1.1 percent with organic growth at 1 percent.
Operating profit is expected to reach $1.1 billion, or 15.5 percent of sales. Adjusted operating margin for the current year is expected to range between 14.1 percent and 14.4 percent.
Hytinen also noted that HanesBrands' eight acquisitions made since 2010, also including Maidenform, Pacific Brands and Bras N Things in the company's Innerwear segment, have met or exceeded IRR (internal-rate-of-return) expectations and select acquisitions will likely continue over the next few years.
Assuming a similar rate of acquisitions, sales by 2022 are expected to reach $7.8 billion, total CAGR come to 3.5 percent and operating profit to reach $1.2 billion, representing 15.3 percent of sales.
"Over the next few years, we expect to see meaningful EPS growth from our disciplined capital allocation strategy and modest operating margin expansion," stated Hytinen. "We are well positioned with strong brands, a proven business model, a commitment to deleverage, strong cash generation and a balanced capital allocation strategy."
Second-quarter guidance was also reaffirmed. Second-quarter net sales are expected to be in the range of $1.7 billion to $1.725 billion. GAAP operating profit is expected to be $215 million to $225 million and adjusted operating profit excluding actions is expected to be $240 million to $250 million. GAAP EPS is expected to be 38 cents to 40 cents and adjusted EPS excluding actions is expected to be 44 cents to 46 cents.