19 Jul

Did Adidas Or Nike Win The World Cup?

Sponsoring the two finalists at the World Cup was a sign to some observers that Nike had outperformed Adidas in driving brand awareness, and likely sales, from summer's biggest sporting event. But both brands appear to have benefited.

According to Macquarie Research, Adidas has a 29 percent global market share in global football (soccer) while Nike is at 26 percent. Puma is third at 7 percent.

From a team perspective, Nike appears to have won. The payback in jersey sales escalates as teams reach the knockout round and then head to the quarter-final, semi-final and the finals.

Of the 32 teams in the tournament, Adidas had 12: Argentina, Belgium, Colombia, Egypt, Germany, Iran, Japan, Mexico, Morocco, Russia, Spain and Sweden. While Russia and Japan performed better than expected, Germany lost in the first round after winning the tournament four years ago in Brazil, while other title contenders, Spain and Argentina, disappointed their fans.

By comparison, Nike sponsored 10: Australia, Brazil, Croatia, England, France, Nigeria, Poland, Portugal, Saudia Arabia and South Korea. While Brazil was a disappointment, Nike had the two finalists, France and Croatia, and another reach the semi-finals, England. Adidas only had Belgium reach the semi-finals.

In 2014 at the World Cup in Brazil, the two finalists, the winner, Germany and runner-up, Argentina, were both sponsored by Adidas. Adidas said some 3 million Germany shirts were sold, with the champions accounting for a third of Adidas' total soccer-related sales of€2.1 billion ($2.4 billion) that year.

Nike has already noted some early wins. England home jerseys were essentially sold out as the team made it to the World Cup semi-finals for the first time since 1990. Three million of Nigeria's lime green and white zigzag patterned jerseys sold out in pre-orders before the games began.

Adidas CEO Kasper Rorsted had predicted earlier this year that unit sales of jerseys at this year's World Cup would exceed the 8 million Adidas sold in total in 2014, but had also cautioned that the economic crisis in Russia was expected to weigh on sales around this year's event. He said he saw the event as more as a brand-building opportunity.

From a player perspective, Nike also won. The brand began seriously investing in soccer when the U.S. hosted the World Cup in 1994, and has placed a bigger focus on securing the rights to individual stars versus Adidas.

As a result, Nike claimed that over 65 percent of players participating in the World Cup wore Nike soccer boots–more than all the other brands combined. Of the 150 goals scored in the tournament, Nike cleats were worn for 100 of them, with 66 scored by the Nike Mercurial 360.

Nike's players all won the big awards. England's Harry Kane earned the Golden Boot award for most goals scored (6) in the tournament, Croatia's Luka Modric was awarded the Golden Ball for best player and Belgium goalie Thibaut Courtois won the Golden Glove. France's Kylian Mbappe had a breakout tournament in becoming the youngest player, at 19, to score in a World Cup final since Pele in 1958.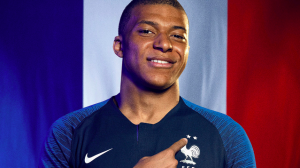 Nike's two biggest stars, Portugal's Cristiano Ronaldo and Brazil's Neymar, saw early exits, but Nike was seen benefiting from their hundreds of millions of followers across social media that likely helped boost jersey sales at the early parts of the tournament.
According to analysis last year from social media research firm D'Marie Analytics, a post by Ronaldo across Instagram, Facebook and Twitter has a media value of $728,000, making him both the most valuable soccer player and athlete overall.
Adidas has a smaller lineup of sponsored players and had only one player, the veteran Paul Pogba, on the winning team. Adidas' biggest star, Argentina's Lionel Messi saw an early exit.
While Nike banks on the company' stars, Adidas puts a bigger focus on the company's sponsorship of the World Cup. Adidas has been the official FIFA sponsor and partner since 1970 in a deal that continues through at least 2030. As a result, the Adidas name is splayed on the tournament ball, the referee's uniforms, placement around the stadium and across television broadcasts.
According to a report from YouGov, both Adidas and Nike benefited as far as consumer perception since the World Cup began on June 12.
YouGov's Buzz score, which asks respondents if they've heard something positive or negative about a specific brand in the past two weeks, showed Adidas trending slightly more positively since the games began through July 9.
YouGov's Word of Mouth metric—which measures how many U.S. adults are talking about a particular brand—also put Adidas ahead of Nike, but again only slightly. Wrote Ted Marzilli, CEO data products at YouGov, in a blog entry, "In terms of overall gain, since the World Cup debuted, the general public increasingly discussed both brands at a similar rate. Near the end of June, however, mentions of Nike among U.S. adults appear to have decreased more than they did for Adidas."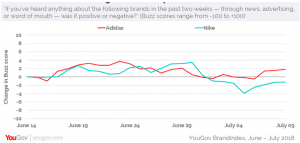 Nike fared better in a report from Campaign. The U.K. marketing firm surveyed over 1,000 consumers before the start of the World Cup on May 30, and then just prior to the final game, to measure awareness of official partners. Respondents identifying Adidas as the sponsor eased slightly from 54.7 percent before the games to 54 percent afterwards. Conversely, the percentage selecting Nike increased from 50.7 percent to 51.2 percent. Nike for the first time provided the kits for both finalists.
An Adidas spokesperson told Campaign they were satisfied with with the brand's World Cup showing, noting that e-commerce volume doubled on some of the company's sites during the tournament. Perimeter advertising during games also drove a 14 percent surge in Adidas app downloads. An Adidas spokesperson told Campaign: "The focus for Adidas was ensuring that we have a strong brand presence during the tournament, and we are very happy with the results."
In a report on Adidas that came out July 10, Macquarie Group's analysts wrote the 2018 World Cup has been important for Adidas as a brand building platform, to introduce key products to a wider audience and increase social media and other engagements. However, the investment firm expects the "immediate impact" on sales to only be about €220 million, or only about 1 percent in fiscal 2018, in additional sales. That's partly because Macquarie estimates the soccer category for Adidas has shrunk to 12 percent of sales currently from 14 percent in 2014 as Adidas has seen stronger growth in other categories such as sport lifestyle, running and training.
The next World Cup will be staged in Qatar in 2022, but a pitched battle between Nike and Adidas is expected to take place in 2026 when the U.S. Canada and Mexico co-host the event and the number of teams increases to 48 from 32. FIFA awarded the 2026 joint-bid on June 13.
In the note, Andreas Inderst, the lead analyst on Adidas for Macquarie, wrote that having the World Cup in North America should boost soccer participation in the U.S. in the years leading up to the event and Adidas as the sports brand best known for soccer should widely benefit.
Wrote Inderst, "While the prospects remain very good for the group in the U.S., we regard FIFA's decision to allocate the 2026 FIFA World Cup to the U.S., Canada and Mexico of significant strategic value to Adidas given its already good positioning in football globally and in North America."
Photos courtesy Adidas and Nike