24 May

Kohl's Delivers Blow-Out Q1 On Active Strength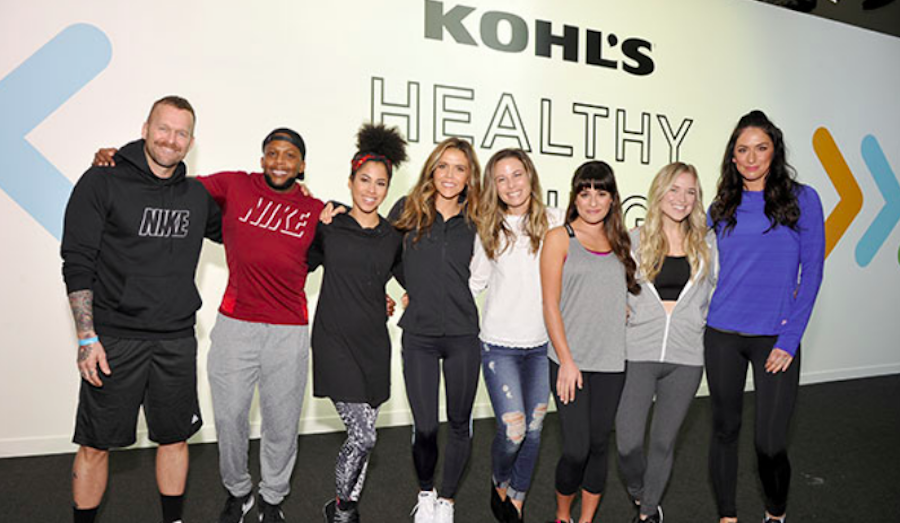 Led by 10 percent comp growth in its active assortments, Kohl's Inc. reported first-quarter earnings that easily topped Wall Street's targets and lifted its guidance for the year.
On her first conference call with analysts as CEO, Michelle Gass said the 10 percent comp gain was driven by Kohl's top three active brands, Nike, Under Armour and Adidas, and the overall category's performance continues to top expectations.
"We have distinct strategies to drive the sustained growth of each of these important brands," said Gass. "Nike, which is one of our largest national brands, continues to post strong growth on both the core assortment across all lines of business, as well as new additions such as Nike Golf. We are pleased to share that Under Armour is experiencing strong growth in its second year through expanded assortment and new categories such as Under Armour golf, men's basics, swim and outerwear. With respect to Adidas, we're seeing tremendous growth from our focus on greater breadth of product, elevated assortment and enhanced base in some of our stores."
Gass further said that as part of the chain's efforts to invest in active and wellness in a "bigger and bolder way," an active expansion test will be launched in 30 stores in August.
"Our teams have been collaborating with all of our active brand partners for some time to create a much more dramatic elevation of product in the customer experience in those stores," said Gass. "This will result in an increase in square footage for the active business by approximately 40 percent and will provide customers with almost 50 percent more choices."
As part of its Make Your Move initiative launched in early 2015, Kohl's has been ramping its active and wellness offerings with expanded assortments of Nike, Adidas, Columbia, Coleman, Asics and other athletic brands. the chain also signed a sponsorship deal with The Color Run in 2015 and has partnered with several fitness bloggers on social media. The chain's exclusive Fila Sport line was been expanded and an exclusive Gaiam apparel line launched in 2015. Under Armour was introduced with big fanfare in March 2017.
Asked by an analyst how much active was as part of Kohl's business, Gass would only say that the category "continues to be a bigger and bigger part of our business and so we're very pleased about that."
She sees the opportunity for the Kohl's to "set itself apart" in athletic overall because the chain focuses on both active and wellness. Said Gass, "We tend to go to sort of the active footwear and apparel but we also have a host of wellness initiatives across the company whether it's fitness trackers or even in athlete category. And especially we feel like we're uniquely positioned because it's for the whole family. So we're seeing active growth across the board, men's, women's, home, footwear and kids. So we believe that gives us a real advantage."
Other strengths for Kohl's in pursuing the athletic category includes its strong mix of national brands as well as proprietary brands. But Gass also believes Kohl's will benefit from a strong broader athletic trend that the overall retail industry is also participating in.
"We'll go as far as the customer wants us to go," said Gass. "People aren't using these products just to work out anymore. They're living in them. So that gives us a broad permission to really expand the category."
As far as the 30-store test, Kohl's will be making significant investments in extra space and fixturing to support the athletic brand expansion and Gass expects the pilot will provide an indication of the expansion potential for the chain in the active category.
"We'll learn from that in terms of how far this will roll out and scale, but I know we'll get a lot of learnings that will impact our overall strategy with active," said Gass. "I think we'd like to say it's not a trend anymore but we don't see this letting up. And I'll just reiterate we will be on this journey with the customer and deliver the kind of products and initiatives that they want from us."
Gass, formerly chief merchandising officer and chief customer officer, replaced Kevin Mansell this month as CEO this month following his retirement.
Companywide, net earnings in the quarter ended May 5 before special items vaulted 62.1 percent to $107 million, 64 cents a share, easily ahead of Wall Street's consensus estimate of 50 cents.
Including a debt-extinguishment charge, net income would have been ahead 13.6 percent to $75 million, or 45 cents a share. The $500 million debt tender offer led to a $42 million debt-extinguishment charge in the latest quarter but is expected to reduce interest expense by approximately $25 million on an annual basis.
Sales gained 3.5 percent to $4.2 billion, ahead of Wall Street's consensus estimate of $3.95 billion.
Same-store sales climbed 3.6 percent against a 2.7 percent decline in the same period a year ago and ahead of Wall Street's average target of 2.7 percent.
The gain came despite what Kohl's estimated was a negative impact of approximately 100 basis points on comps in the quarter due to snowstorms. Gass said that given the weather headwinds, the organization proactively leaned into less-seasonally dependent categories such as home, active footwear and apparel, denim and wear-now in key-item basics.
Comp gains were seen in both stores and digital with digital ahead 19 percent. The comp gain was driven by an increase in average transaction value resulting from a strong increase in average unit retail (AUR). The AUR was boosted by the introduction of higher-end product in active brands and a "particularly stellar" quarter for home. Transactions were relatively flat for the quarter.
Among product categories, home, footwear and men's were the strongest performers while children's was the most challenging.
"Footwear continues to be one of our strongest performing categories and is an excellent example of the success we've had implementing new product strategies," said Gass. The introduction of new brands, including Madden NYC, Circus by Sam Edelman and Timberland Pro, supported the performance. But Gass also said Kohl's continues "to maximize the athletic opportunity with Nike, Under Armour and Adidas as well as lifestyle offerings with Vans and Converse."
From a regional perspective, the West, Midwest and South Central outperformed the company. The northeast and mid-Atlantic, which were negatively impacted by weather, as well as the southeast underperformed the company's average.
Kohl's estimated that a calendar shift due in part to the timing of the friends-and-family event leading into Mother's Day boosted comps by approximately 320 basis points in the quarter.  The shift will also positively impact the chain's second quarter comp but will be a headwind in the third and the fourth quarters.
Gross margins in the quarter grew 50 basis points to 36.9 percent due in part to Kohl's clean inventory position and localization inventory management. The quarter marked its ninth consecutive quarter of inventory reductions.
Also benefiting margins was speed initiatives that allowed merchants to react more opportunistically to consumer demand throughout the quarter that also helped drive better full price and clearance sell-throughs in the period. Finally, shipping costs were better than expected due to higher Buy Online Pickup In Store (BOPIS) demand and shipping efficiencies driven by technology investments.
SG&A expenses increased 3.7 percent to $1.26 million but was flat at 29.9 percent of sales versus the year-ago period. Efforts at payroll management and cost savings initiatives offset wage rate pressures and tech investments to support cloud migration and omni-channel growth. The chain's marketing spend is also benefitting from being leverage across channels.
Looking ahead, Kohl's now expects adjusted EPS for the full year to come in the range of $5.05 to $5.50, compared to its prior guidance of $4.95 to $5.45. Including the loss on extinguishment of debt, EPS is expected to be $4.86 to $5.31.
As a result of the better-than-expected first quarter, Kohl's now expects gross margin to increase 15 to 20 basis points for the year. The debt extinguishment decreases the company's interest expense expectation to $260 million for the year. SG&A is expected to continue to increase 1 percent to 2 percent for the year on a post revenue recognition basis, with the second quarter increasing mid-single digit percentage.