25 Apr

Puma Prepares To Shift Production From China Over Tariff Concerns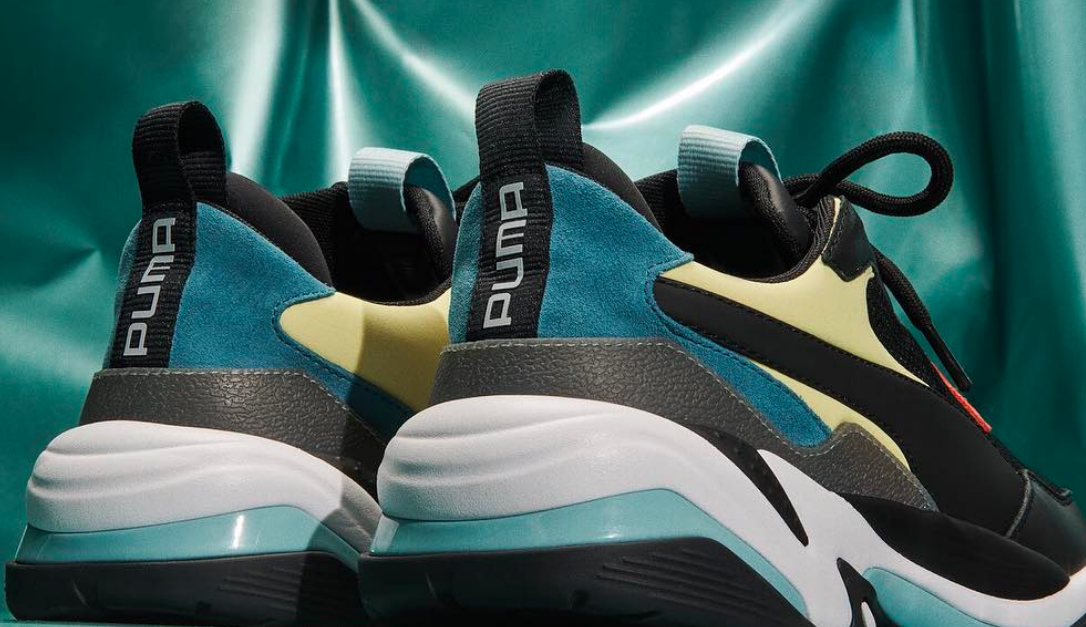 While delivering robust first-quarter results and lifting its outlook for the year, Bjørn Gulden, CEO of Puma SE, spent the majority of the company's quarterly conference call with journalists discussing the potential negative impact of tariffs on China.
On the call, Gulden noted that both first-quarter sales and profitability came in stronger than internal expectations, with double-digit growth in all product categories and regions, including "exceptionally high growth" in Asia. Net revenues grew 21.5 percent on a currency-neutral basis to €1.13 billion ($1.38 bn) and gained 12.5 percent on a reported basis.
EBIT (earnings before interest and taxes) jumped 59.9 percent €112.2 million ($137.2 mm) due to the top-line growth, an improvement in gross margin by 110 basis points and "good and tight" operating expense management.
Still, despite the momentum seen in in the first quarter, Puma is only "slightly" lifting the outlook for the year "because of an uncertain business environment caused by volatile currency rates and the difficult economic trade environment," according to Gulden.
Puma now expects sales to grow between 10 and 12 percent in local currencies in 2018, up from previous expectations of 10 percent. EBIT is now projected to come in the range of €310 million to €333 million versus previous guidance of €305 million to €325 million.
On April 12, Puma pre-announced strong first quarter results and raised full-year guidance for 2018, but didn't provide details.
On the trade challenges, Gulden said on the call with journalists that the uncertainty around potential duties and tariffs coming from the U.S. on China products is forcing Puma to explore alternative production areas for sourcing both footwear and apparel. Said Gulden, "We have existing orders and we don't know what is happening, and uncertainties between the two biggest markets is not a good thing."
If higher tariffs arrive on shoes and apparel coming from China, one option includes shifting to source some items from countries such as Vietnam and Indonesia on the footwear side and Cambodia or Bangladesh for apparel items. The challenge is optimally balancing not only costs, but lead times and capacity with the move out of China into other countries. With many of China's factories having invested in automation with rising labor costs and other sophisticated technologies, moving that technology to other parts of the world will also take time. Gulden estimated an "optimal" reset would take about a year.
A second option would be to face a higher landed cost when producing out of China and consequently accept a lower margin or raise prices. Gulden noted that Puma's not the market leader in the U.S. and would likely need larger competitors to raise prices before the brand would be able to. Said Gulden, "We cannot raise prices if the other ones are not, and that's why we need to make sure we are very, very close to this to make sure we're making the right decisions if we have to make a decision."
Gulden stressed that Puma has not moved any production or switched any orders. But Puma has had discussions with all its sourcing vendors and is starting to do some double-development of product, which means some product lines with deep volumes in China can now also be made in other markets in case production has to be ramped up. Said Gulden, "It's just another task that you would not like to do … Tariffs and uncertainty on that is not a good thing. We would love free trade."
On the positive side, Gulden suspected that being smaller than Nike and Adidas, Puma may be "quicker and more flexible" in making adjustments.
He also noted that most of the factories that are producing for the sports industry are either Taiwanese or Korean companies that have multiple factories across countries. Gulden said, "Very often we know we can switch volumes and develop them with the same supplier between those markets because they have multiple countries of origin."
Puma also won't be pulling all production out of China because the country is Puma's "fastest growing market" currently, and local production will support that over-sized growth.
About a third of Puma's footwear and apparel production is done in China, another third in Vietnam with the rest spread across five or six countries. Sourcing has been coming down from China over the last two years as well due to higher labor costs.
Still, Gulden said any change in tariffs will be a headache "for all industry players, because the U.S. is the largest market. Gulden said, "This uncertainty is never good because it takes a lot of time and energy to see where we develop what product for what time and what country right now."
Among the other issues driving the cautious outlook are currency fluctuations, largely due to the strong euro. Gulden noted that the difference between currency-adjusted sales and reported sales was nine points in the quarter due to the strengthening Euro. Puma has also faced some negative headwinds, with currencies in Russia and Turkey with by far the steepest currency-change coming in Argentina. He said it's possible to hedge with some countries to ensure the local P&L statement "is okay, but when you consolidate it back to euro it's impossible because the rate is what it is."
A third reason for the conservative outlook is general retail weakness at many of Puma's wholesale partners in the U.S. over the last 18 months. He further said JD Sport's pending acquisition of The Finish Line adds some uncertainty to U.S. results. Regarding the pending JD Sports and Finish Line merger, Gulden said, "I don't' necessary see that as a negative thing. That might be also very positive. I think JD is doing a fantastic job, and we have a great relationship with them. But the retail market for us in the U.S. is of course a difficult one and there is a lot of uncertainty in the market."
The trade talk and other concerns overshadowed another strong performance for Puma.
By region, the 21.5 percent currency-adjusted sales gain in the first quarter was led by Asia/Pacific, which jumped 34.8 percent in local currencies to €302.6 million and gained 24.1 percent on a local basis.
Gulden said China drove the gains and was helped by both increased sell-throughs and productivity in existing stores, as well as third-party partners opening doors. Japan and Korea have also returned to growth for the brand, but China is the main driver. Gulden believes all the big international sports brands are witnessing strong growth in China and taking shelf space from both China's better-own sports brands as well as tertiary local ones.
He wasn't sure if Puma was growing faster than Nike or Adidas, but also noted that Puma has about 1,400 points-of-sale in the region in largely first-tier cities versus near 10,000 for each of its competitors. As such, the focus for Puma is on ensuring local operators are prospering with the brand so they're encouraged to expand deeper in first-tier cities and eventually support bringing the brand to second and third-tier cities.
Sales in the EMEA reached €480.7 million, up 15.9 percent on a reported basis and 18,6 percent on a currency-neutral basis.
Sales in the Americas inched up 0.4 percent on a reported basis to €347.7 million and gained 15.6 percent on a currency-neutral basis. On a currency-neutral basis, sales in the Americas improved from 14.4 percent seen in the fourth quarter last year and came on top of a 17.0 percent gain in the first quarter of 2017.
Overall, sales on a currency-neutral basis in the Americas jumped 14.3 percent in 2017, accelerating from gains of 8.3 percent in 2016, 8.8 percent in 2015, and 6.7 percent in 2014 in its first year of recovery. Sales had eased 0.7 percent in 2013.
By product category, footwear led the way, up 16.3 percent on a reported basis to €580.3 million and growing 26.3 percent on a currency-neutral basis. Apparel reached €364.1 million, up 11.6 percent on a reported basis and 20.4 percent on a currency-neutral basis. Accessories' sales totaled €186.6 million, up 3.7 percent on a reported basis and 10.6 percent on a currency-neutral basis. Running and Training as well as Sportstyle were the categories with the strongest growth rates.
Gross margins improved from 47.1 percent to 48.2 percent due to a favorable regional sales mix, higher sales of new products with a better margin and further sourcing improvements.
Operating expenses (OPEX) grew 7.5 percent to €437.3 million in the quarter due to higher marketing and retail investments as well as higher sales-related variable costs. As a percent of sales, OPEX was cut to 38.7 percent from 40.5 percent.
EBIT leapt 59.9 percent to €112.2 million with EBIT margin to 9.9 percent compared to 7.0 percent in the first quarter last year. Net earnings went up by 35.8 percent to €67.4 million, or €4.51.
Inventories rose only slightly by 1.3 percent to € 760.4 million despite the top-line growth.
Other insights from the journalists' call:
Puma will have four teams competing in the World Cup: Switzerland, Uruguay, Senegal and Serbia. Both Senegal and Serbia were added since the start of the year as some of countries the brand supports missed the cut. The big loss was Italy, but Puma has liquidated related product that would have gone to support Italy in the fourth and first quarter. Gulden said for its size, the brand was looking to support four to six teams in the tournament. Said Gulden, "We'll deal with the four we have and they will look good and hopefully one of them will be a big surprise. In addition to that we will have a lot of players and we feel good about the impact Puma can have on the championship."
Asked if Puma's strategy would change following its upcoming spinoff from Kering, Gulden said the strategy, as previously stated, remains the same. The company will even have the same board members, although they'll change from an administrative to an advisory board. As spelled out on last year's Capital Markets Day, the mid-term goal is that by 2022, Puma will have a 10 percent EBIT margin. The plan calls for a 10 percent CAGR, improving margins in part through channel and regional mix, and operating expense leverage. Puma expects to continue to spend between 11 and 11.5 percent for marketing to drive demand.
Asked about possible competition from luxury players getting into sneakers, Gulden said that Puma has done some collaborations to take advantage of the trend, including one with Karl Lagerfield set to launch in October. Overall, he expects luxury brands getting more heavily involved in casual footwear to boost price points. Said Gulden, "I do see that a lot of people who were wearing very formal and expensive shoes are now walking around in Gucci or Balenciaga sneakers at price points approaching 1,000 euro and that is a trend that pulls the sneaker market up. I think we can only be happy for that."