02 May

Puma's Q1 Revenues Climb 15 Percent

Puma SE reported earnings jumped 40.1 percent in the first quarter as sales improved 15.3 percent and gross margins expanded 80 basis points. Sales in the Americas grew 16.3 percent on a currency-neutral basis. Bjørn Gulden, CEO, said: "The first quarter of 2019 was the best quarter Puma has ever seen."

2019 First-Quarter Facts
Sales increased by 15.3 percent currency-adjusted to €1,319 million (+16.6 percent reported), driven by continued growth in all regions and product divisions
Gross profit margin improves by 80 basis points to 49.0 percent
Operating expenses (OPEX) increase to €511 million (last year: €437 million) due to higher sales related variable costs, including logistics costs as well as higher marketing and retail investments
Operating result (EBIT) improves by 27.0 percent to €143 million (last year: €112 millionPuma signs the football clubs Manchester City and Valencia CF
Puma will be official matchball partner of Spanish Football League "LaLiga" starting season 2019/20
Puma becomes the exclusive merchandise and trackside retail partner of Formula 1
Puma's shareholders approve share split 1:10 at the Annual General Meeting on April 18
Héloïse Temple-Boyer and Fiona May elected as new members of the supervisory board
Bjørn Gulden, chief executive officer of Puma SE, said: "The first quarter of 2019 was the best quarter Puma has ever seen. Revenues of €1,319 million (+15.3 percent currency adjusted) is the highest Puma has ever achieved in a quarter and the EBIT of €143 million (EBIT-margin 10.8 percent) was also the highest absolute EBIT Puma has ever achieved. So, it has been a very good start into the year. The growth in all regions and all product divisions shows that we continue to make progress. Even if we have nine more months to go and despite a lot of uncertainty in the market, we feel comfortable that we will achieve our guidance for the full year."
First Quarter 2019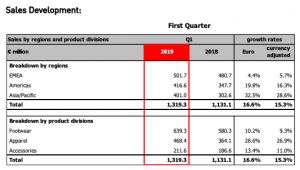 Puma's sales growth continued in the first quarter of 2019. Sales rose by 15.3 percent currency-adjusted to €1,319.3 million (+16.6 percent reported) compared to €1,131.1 million last year. The regions Asia/Pacific, driven by China, and the Americas contributed with double-digit sales growth, while sales in EMEA increased solidly. In terms of divisions, Apparel was the main growth driver in the quarter, followed by Accessories and Footwear. The categories Running and Training, Teamsport, Motorsport and Golf on the performance side as well as Sportstyle all recorded strong growth. The double-digit increase in both wholesale and direct-to-consumer sales underlines a well-balanced growth of our business.
The gross profit margin improved by 80 basis points from 48.2 percent to 49.0 percent. The increase resulted from a favorable product mix with higher growth in Apparel and a favorable regional sales mix with higher sales growth in the Asia/Pacific region. Currency effects also had a slight positive impact on the gross profit margin development in the first quarter.
Operating expenses (OPEX) rose by 16.8 percent to €510.7 million in the first quarter. The increase was mainly caused by higher sales-related variable costs, including logistics costs as well as higher marketing and retail investments.
The operating result (EBIT) improved by 27.0 percent from €112.2 million to €142.5 million in the first quarter 2019 due to a strong sales growth combined with a higher gross profit margin. This corresponds to an EBIT-margin of 10.8 percent compared to 9.9 percent in the first quarter last year.
Net earnings went up by 40.1 percent from €67.4 million last year to €94.4 million in the first quarter of 2019, supported by an improved financial result. As a consequence, earnings per share improved from €4.51 to €6.31.
Working Capital
Despite the significant sales growth, working capital rose by only 7.1 percent from €791.0 million to €846.9 million. Inventories were up by 19.3 percent to €907.5 million due to management of supplier capacities and to support the growing demand in the upcoming quarters. Trade receivables rose by 12.3 percent from €685.0 to €769.2 million. On the liabilities side, trade payables and other current liabilities increased by 17.1 percent to a total of €1,004.8 million (last year: total of €858.2 million).
Effects from first-time application of IFRS 16 Leases and related extension of the balance sheet
The new lease standard (IFRS 16) has to be applied since the beginning of this year. This led to a significant extension of the balance sheet total as of March 31, 2019. The capitalization of the 'rights of use' from former operating-lease contracts at the amount of €635.6 million and the recognition of a corresponding lease liability on the balance sheet were the reasons for the increase of non-current assets and liabilities. A lease liability of €116.9 million is included in other current liabilities and €535.1 million are included in other non-current liabilities. This extension of the balance sheet resulted in a negative impact on the equity ratio, which therefore decreased from 57.9 percent at year-end 2018 to 44.5 percent at the end of the first quarter 2019.
The effects from the first-time application of IFRS 16 on the profit and loss statement of the first quarter 2019, however, were not material. IFRS 16 has had a slight positive effect on the operating result (EBIT) of €3.8 million. Including the additional interest expense of €6.6 million due to IFRS 16 and further deferred tax effects (+ €0.8 million), the impact on net earnings in the first quarter 2019 in total was a negative amount of €2.0 million.
Outlook 2019
After a strong start into 2019 both in terms of sales and profitability, Puma confirmed its guidance for the full-year 2019, which was provided on February 14, 2019:
Sales: currency-adjusted growth of around 10 percent
Gross profit margin: slight improvement compared to last year (2018: 48.4 percent)
OPEX: increase at a slightly lower rate than sales
EBIT: in a range between €395 million and €415 million
Net earnings: significant improvement