19 Apr

Skechers' Q1 Profits Climb 25 Percent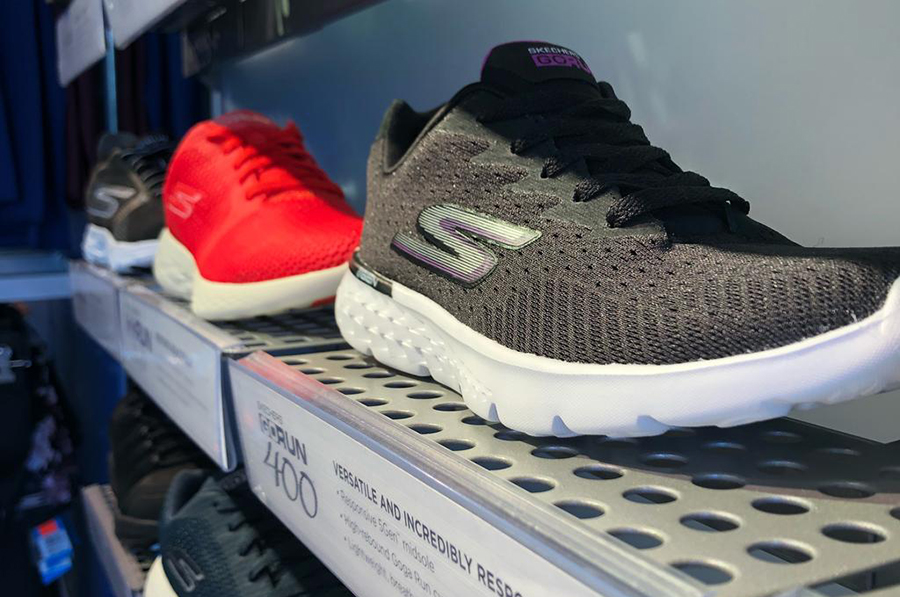 Skechers USA Inc. reported earnings rose 25.2 percent in the first quarter on a 16.5 percent revenue gain. Led by the company's international and retail segments, sales came in easily ahead and earnings at the upper-end of expectations.
First Quarter Highlights
Record sales of $1.250 billion, an increase of 16.5 percent
Earnings from operations of $148.8 million, a 19.6 percent increase
Net earnings of $117.7 million, a 25.2 percent increase, and diluted earnings per share of 75 cents a share
International wholesale sales increased 17.9 percent; total international wholesale and retail sales combined represented 54.0 percent of total sales
Domestic wholesale sales increased 8.5 percent
Company-owned global retail sales increased 26.4 percent, with a comparable same store sales increase of 9.5 percent worldwide
When reporting fourth-quarter results on March 8, Skechers predicted sales for the first quarter in the range of $1.175 billion to $1.200 billion, and diluted earnings per share of 70 cents to 75 cents.
"What a way to start 2018," began Robert Greenberg, Skechers chief executive officer, in a statement. "We truly felt 2017 was a banner year, but yet again we surpassed our expectations and hit a new quarterly sales record. With our men's, women's and kids' product growing year-over-year and resonating with consumers globally, we believe our moment is now. We are experiencing the continued success of our men's Skechers Sport, women's sandals and men's and women's On the Go collections. In addition, with the global focus on the trend-right Skechers D'lites, we're seeing this product turn into a must-have item by accounts and the press, resulting in new opportunities. From a marketing perspective, we have a new commercial with chart-topping singer Camila Cabello in our D'lites, legendary football great Tony Romo in our men's Relaxed Fit slip on shoes, and more than a dozen other commercials, including many featuring our kids' footwear. Our targeted marketing on air, in print and digitally continues to raise awareness of our vast product offering and drive sales around the world. We're looking forward to the remainder of our Spring deliveries, and sharing our results as we move through the rest of 2018."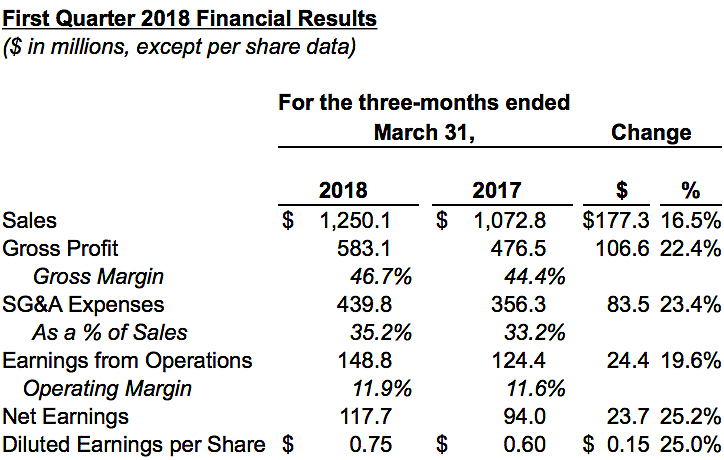 "We achieved yet another record sales quarter and continued to see significant growth across all our business segments including comp store sales increases of 9.5 percent worldwide," stated David Weinberg, chief operating officer of Skechers. "During the first quarter, our North American Distribution Center experienced a record month for shipment volume, a testament to the strength in our wholesale and retail businesses in the United States and Canada. Further, our European Distribution Center experienced a record quarter for shipment volume, an indication of the strength of our operations in that region. Our international subsidiary and joint venture businesses are driving our growth with a combined quarterly increase of 25.7 percent, and there are now 2,197 company-owned or third-party Skechers stores outside the United States. Now at 54.0 percent of our total business, we continue to see international as our greatest growth opportunity."
Sales grew 16.5 percent as a result of a 17.9 percent increase in the company's international wholesale business, an 8.5 percent increase in the company's domestic wholesale business, and a 26.4 percent increase in its company-owned global retail business. Comparable same store sales in company-owned stores worldwide increased 9.5 percent, including 7.0 percent in the United States and 17.6 percent internationally, as compared to the first quarter of 2017.
Gross margins increased due to strength in the company's international subsidiary and company-owned international retail businesses.
SG&A expenses increased 23.4 percent. This increase was due to an additional $72.9 million in general and administrative expenses, including $37.4 million to support international growth in the company's joint venture and subsidiary businesses, and $18.3 million associated with operating 73 additional company-owned Skechers stores, of which 15 opened in the first quarter. Selling expenses increased by $10.6 million primarily due to higher international advertising expenses.
Earnings from operations increased $24.4 million, or 19.6 percent.
Net earnings were $117.7 million and diluted earnings per share were $0.75. In the first quarter, the company's income tax rate was 9.6 percent, reflecting certain discrete tax benefits primarily associated with a refinement in understanding of the various provisions of the Tax Cuts & Jobs Act ("TCJA"). The benefit of these discrete tax items to the company's diluted earnings per share was approximately $0.07 cents per share.
Balance Sheet
At quarter-end, cash and cash equivalents were $700.1 million, a decrease of $36.4 million, or 4.9 percent, from December 31, 2017, and an increase of $92.3 million, or 15.2 percent, over March 31, 2017.
Total inventory, including inventory in transit, was $800.3 million, a $72.7 million decrease over December 31, 2017, and a $214.5 million increase over March 31, 2017.
Working capital was $1.6 billion at March 31, 2018, a $100 million increase over December 31, 2017, and a $300 million increase over March 31, 2017.
"Our global growth strategy continues to yield positive results," said John Vandemore, chief financial officer of Skechers. "We continue to invest in our global capabilities and remain poised to capitalize on consumer trends. We also continue to execute our capital allocation philosophy, as evidenced by our ongoing investment in our direct-to-consumer offerings and our share repurchases in the quarter."
Share Repurchase
During the three months ended March 31, 2018, the company repurchased approximately 76,000 shares of its Class A common stock at a cost of $3.0 million under the existing share repurchase program. At March 31, 2018, approximately $147.0 million remained available under the company's share repurchase program.
Outlook
For the second quarter of 2018, the company believes the company will achieve sales in the range of $1.120 billion to $1.145 billion, and diluted earnings per share of $0.38 to $0.43. The estimated quarterly sales includes an expected shift in shipments from the second quarter to the back half of the year for several key international distributors and domestic accounts. Based on current expectations, the company continues to anticipate that its 2018 annual tax rate will be in the range of 12 percent to 17 percent.