31 May

Strong Athletic Trend Propels Shoe Carnival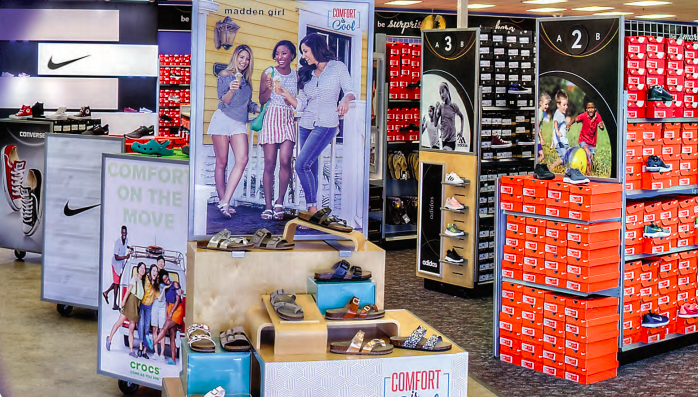 Boosted by continued strength in athletic and athleisure styles, Shoe Carnival Inc. reported first-quarter earnings catapulted 58.5 percent on a 1.3 percent comp gain and 150-basis-point improvement in gross margin.
On a conference call with analysts, Cliff Sifford, president and CEO, said the retailer experienced a "very cold and wet start" to the quarter, which affected sales through the Easter selling season. Once the weather turned warmer, including hot temperatures in certain regions at the end of the quarter, customers reacted positively to new spring assortments.
"We are happy to report a comparable store sales increase of 1.3 percent," said Sifford. "Sales of our spring product categories accelerated as we ended the quarter and we continued to experience a strong athletic and athleisure trend."
For the months of March and April, which Shoe Carnival traditionally sees representing Easter sales, comps grew 3.6 percent. Athletic shoes in total were up mid-single-digits while non-athletic was up low single digits for the combined two-month period.
Traffic for the quarter declined mid-single-digits while conversion and average dollars per transaction were up low-single digits. Average units per transaction were up at the lower end of mid-single-digit range. Inventories ended the period down 1.6 percent on a per store basis.
By category, the gains were led by athletic. Adult athletic was up low-single digits on a comparable basis.
"The strong athletic and athleisure trend shows no sign of slowing down," said Sifford.
Asked in the Q&A session if efforts by brands such as Adidas and Puma to increase distribution to the family channel were helping drive the gains, Sifford said Shoe Carnival doesn't discuss the performance of specific brands, but also said the overall category has been strong for two or three years and "continues to get stronger."
He added, "It does change brand to brand, but the top four brands within the athletic world, for us anyway, are all positive and continue to be positive."
Women's non-athletic was down low-single digits on a comparable basis. Women's boots were up in the teens on a comp basis "with much more inventory and at much higher margins compared to first quarter last year," said Sifford. A low-single digit increase in comps was seen in in sandals with weather warming up in the latter part of the quarter. Men's non-athletic was up low-single digits on a comparable basis, and Shoe Carnival was "very happy with the performance of men's dress shoes and boots."
Children's shoes were up low-single digits on a comp basis, driven primarily from athletics, although a low single-digit comp gain was seen in sandals
Net earnings reached $13.0 million or 83 cents per share, up from $8.2 million, or 48 cents, a year ago.
Gross margin improved to 30 percent from 28.5 percent. Merchandising margins improved 70 basis points, primarily due to having less prior seasonal carryover and clearing that product at a higher margin than in Q1 last year.
Buying, distribution and occupancy expenses as a percentage of sales increased 80 basis points, primarily due to sales leverage. Occupancy expense for the quarter was lower than in Q1 last year, due primarily to a $1.5 million decrease in occupancy cost for stores closed or set to close.
SG&A expenses increased $1.1 million in the quarter to $60.0 million, but were flat at 23.3 percent as a percent of sales. Increases in expenses for the new stores were offset by expense reductions for closed stores. Significant changes in SG&A for the quarter included increases in incentive and stock-based compensation, along with decreases of fixed asset impairments and earnings on the company's retirement savings plan.
Operating earnings improved 31 percent with the larger net earnings gain due to a 13 percent decrease in tax expense.
Discussing some key initiatives for the current year, Sifford said that due to improved performance and better terms with certain landlords, the number of projected store closures this year is being reduced from a range of 25 to 30 to 20 to 25. New store openings for 2018 will be in the low single-digit range as the chain continues to "exercise patience" with store openings.
Said Sifford, "Near-term, this reduces our overall sales volume. However, long-term we expect to realize increased operating income and EPS improvement as a result of our store opening and closing efforts."
For fiscal 2019, Shoe Carnival expects to the evolving specialty retail landscape, including retail consolidation and store closures, and the roll out of its CRM strategy will enable the chain to "ramp up" store openings.
Shoe Carnival finished the quarter with 405 stores.
Sifford said the initial implementation of its CRM strategy is expected to be complete by the end of the calendar year. Although the CRM program is expected to particularly support its loyalty program in creating more of a one-to-one relationship with customers, other benefits are expected to be improved site selection and real estate, enhanced merchandise selection on a store-to-store basis and a better understanding of pain points in the customer's journey. Said Sifford, "We believe this holistic approach to CRM will give us a clear runway for growing Shoe Carnival now and in the future."
An updated loyalty program, Shoe Perks Gold, is soon launching that will focus on incentiving high-value customers "to make Shoe Carnival their store of choice for all their family footwear purchases." The program is also designed to encourage those customers that have not achieved top-tier status to shop more often.
Shoe Carnival's vendor-drop ship program will also launch in the current quarter to enable shoppers to gain access to a broader range of styles online while enabling Shoe Carnival's merchant team to test styles, brands and expand sizes without the risk of inventory ownership. Said Sifford, "The investments we are making in technology and customer engagement are incredibly important as we take Shoe Carnival to the next level of growth."
Looking ahead, Shoe Carnival raised the company's EPS guidance for fiscal 2018. The chain now expects EPS to be in the range of $1.90 to $2.05, up from prior guidance of $1.85 to $2. Sales are expected to range between $1,013 million to $1,020 million, with comparable store sales up low single digits. Previously, the revenue guidance was $1.013 billion to $1.023 billion and comps were expected to be flat to up low-single digits.
For the second quarter, Shoe Carnival expects a low to mid-single-digit increase in comparable store sales. However, due to the calendar shift that will see back-to-school sales land in the second quarter versus the third last year, total sales are expected to increase in the low teens.
Shifting the promotional back-to-school sales into Q2 will have a negative effect on merchandise margin but should create significant leverage on buying, distribution and occupancy expenses, leading to a 50 to 80 basis point increase in gross margin. The shift will also result in a high single-digit increase in SG&A dollar spend compared to Q2 last year, but will still be leveraged against the higher sales base.
"We continue to plan our business conservatively in order to more effectively manage inventory and margin," said Sifford. "I am happy with the performance of our spring and summer product categories and the continuation of the strong athletic and athleisure trend we have been experiencing over the past several years. I am also happy with the way our second quarter has begun, with both sales and margin exceeding our expectation. We believe this trend will continue through at least the back-to-school time period."
Photo courtesy Shoe Carnival