18 Jun

Analyst Sees Nike Benefiting From Heightened Wellness Focus

Raymond James analyst Matthew McClintock raised his price target on Nike Inc. as the virus has heightened consumers' desire to refocus on health and wellness. The upgrade also takes into account expected faster paybacks from its digital investments as well as a positive consumer response to its recent marketing efforts.

"Over the long-term, we believe the lingering effect of the pandemic will propel a more health-focused and home-based lifestyle across the globe — driving demand for Nike's core categories," McClintock wrote in a note. The analyst noted that according to NPD, exercising at home increased more than 70 percent since the lockdown and the number of respondents using digital-based exercise classes doubled.

At the same time, McClintock expects Nike's significant investments building its digital capabilities over the last few years will more quickly pay off as many see the pandemic accelerating the shift to online buying and interaction. He noted that NPD data finds that two-thirds of all athletic shoes sold in the U.S. during April were online. McClintock wrote in the note, "We believe NKE is one of the best-positioned long-term brands and should be able to navigate the current climate with strong brand momentum, financial flexibility, and digital leadership."

Finally, McClintock believes Nike "continues to hit the right tone" amid the COVID-19 crisis and subsequent recovery. He wrote, "For instance, NKE drove effective digital marketing via the launch of a national TV spot 'Never Too Far Down | You Can't Stop Us' — celebrating comeback stories and reminding the world what human resolve is capable of, which garnered 117 million views on YouTube in just two weeks. This is important as digital leadership further enhances customer loyalty and drives incremental gross margin."

…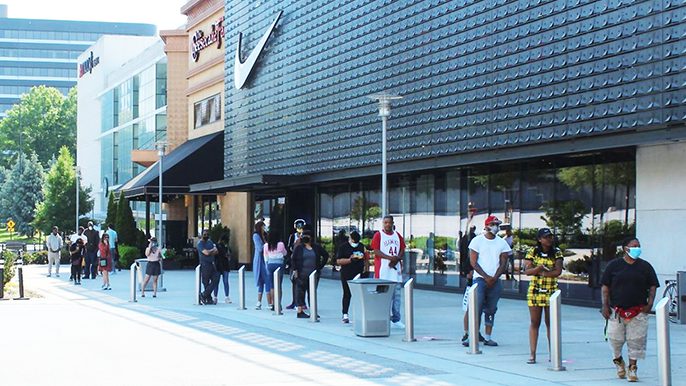 Fans waited in line on May 4 for the doors of Lenox Square Mall in Atlanta, GA to reopen to shop Nike's Lenox Square flagship. Photo courtesy Marietta Daily Journal
…
Raymond James maintained its "Outperform" rating on Nike and raised its price target to $115 from $100.
On Wednesday, when the report came out, shares of Nike closed at $99.21, up 17 cents on the day. Nike's shares began the year at $101.31 and fell as low as $60 in mid-March as the pandemic emerged but have since rallied.
Raymond James lowered its Q420 estimate to 40 cents from 55 cents previously as it now doesn't believe Nike significantly pulled back on marketing expenses as previously expected. The investment firm noted that its 40-cents-a-share target is still well above Wall Street's consensus view of 11 cents as it expects revenues will decline 18 percent in the period compared to Wall Street's estimate of a 27 percent decrease.
The lower sales decline is expected to be supported by accelerated digital growth extending through May as well as reopenings and improved conversion rates in China and South Korea that Nike has already reported. Channel checks by Raymond James at Lenox Square in Atlanta in late May further found long lines at Nike and Foot Locker locations to support strong demand for the brand. McClintock wrote that Nike "is driving mall-leading traffic and conversion due to brand strength in basketball/running sneakers (Air Force One and Air Jordan's sold out at some wholesalers), athleisure and comfort apparel, pent-up demand, stimulus checks, and other stores remaining closed."
Nike is due to report Q420 results on June 25.