22 Mar

Fila Reunites With Tennis Legend Bjӧrn Borg As Brand Ambassador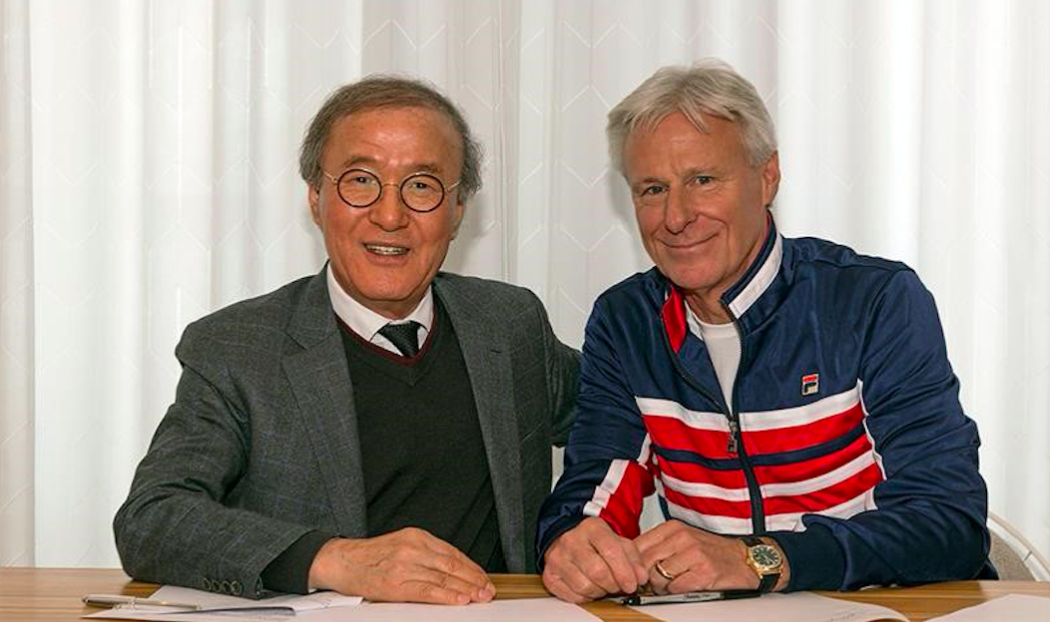 Fila has partnered again with Hall of Famer and former world #1 player Bjӧrn Borg as a brand ambassador.
The agreement was officially signed today by Gene Yoon, global chairman at Fila, and Borg, at Salkhallen in Stockholm, Sweden.
The relationship between Fila and Bjӧrn Borg dates back to 1975, with the merging of an iconic brand and an iconic individual. Throughout his professional career with Fila, Borg played an influential role in fashion on the tennis court, while cementing his status as a style icon. Fila was the first to bring color to the courts in ways that transcended the game, with the "White Line" collection, as worn by Borg and designed by Fila's Pierluigi Rolando.
"Fila has a history of aligning with legendary athletes who have made an impact in their sport and beyond. It is an honor to welcome Bjӧrn back to the Fila family," said Yoon. "As a brand, our DNA is firmly rooted in tennis. Together with Bjӧrn, Fila helped to change the way the world looked at fashion on the court, with a design aesthetic that reflected his distinctive and fearless style of play. That vision and sense of style has never been more relevant than it is today."
Throughout his illustrious career, Borg won 11 Grand Slam titles, including five consecutive wins at Wimbledon from 1976-1980. As a brand ambassador, he represents Fila's influence in the sportstyle space. From the pinstriped polo shirt to the Settanta jacket, Borg's signature Fila fashions are still coveted.
"Creativity and individualism were hallmarks of my game and my style both on and off the court," said Borg. "I am thrilled to reunite with Fila. The brand was there for my most iconic moments in tennis and we have always shared a passion for blending performance and style."
Fila has a long and distinguished history in the world of tennis that continues with endorsements of ATP World Tour and WTA Tour athletes. Fila is a sponsor of the BNP Paribas Open, the Dell Technologies Tennis Hall of Fame Open, the Rogers Cup and Coupe Rogers, the Porsche Tennis Grand Prix, the Mercedes Cup, the Argentina Open, the Rio Open, the German Open, and the Junior Orange Bowl International Tennis Championship. In addition to event partnerships, Fila is an official supplier to Tennis Canada, Junior Tennis Champions Center, Van der Meer Tennis, John Newcombe Tennis Ranch and the Kim Clijsters Academy in Belgium.