28 May

Macy's Seeing Strong Reopenings

Macy's said its store reopenings are generating sales higher than expected and its digital momentum has not fallen off.

The department store giant provided an update while pre-releasing first-quarter results that included a forecast for an operating loss of up to $1.1 billion for the period.

Macy's, which plans to release first-quarter earnings results July 1, began reopening stores on May 4 and as of this week has 190 Macy's and Bloomingdale's stores open. As of February, Macy's Inc., which includes Bloomingdale's and Bluemercury, had 775 locations, which included 551 Macy's stores.

On Friday, Macy's plans to reopen 80 stores for Memorial Day weekend shopping. In total, about 80 percent of the store fleet will either be open or offering curbside pickup by Friday, and most stores will be reopened by late June, Macy's chairman and CEO Jeff Gennette said in a fireside chat with analysts at J.P. Morgan.

Gennette said stores were initially planned to be down in the range of 80 percent to 85 percent as they reopened, but they're overall trending down approximately 50 percent in the stores reopened. He also said Macy's expected to see a dip in online sales as stores reopened but "we've seen no deterioration in digital" in markets where stores in those zip codes that have reopened.

Gennette added, "This trend has been consistent across all geographies and store types, and the performance has been gradually getting better with each week the stores open. We continue to expect a gradual recovery, but we are encouraged by these early results. We will continue to watch customer behavior closely as we reopen more stores, and we will remain agile and adjust our plans as we move along and open up the remaining series of stores."

The stores reopening Friday are in Connecticut, Florida, Hawaii, Minnesota, Missouri, Pennsylvania, and Virginia. Some locations previously opened are in Florida, Missouri, Arizona, Colorado, Georgia, Indiana, Nevada, North Carolina, Oklahoma, South Carolina, Tennessee, and Texas.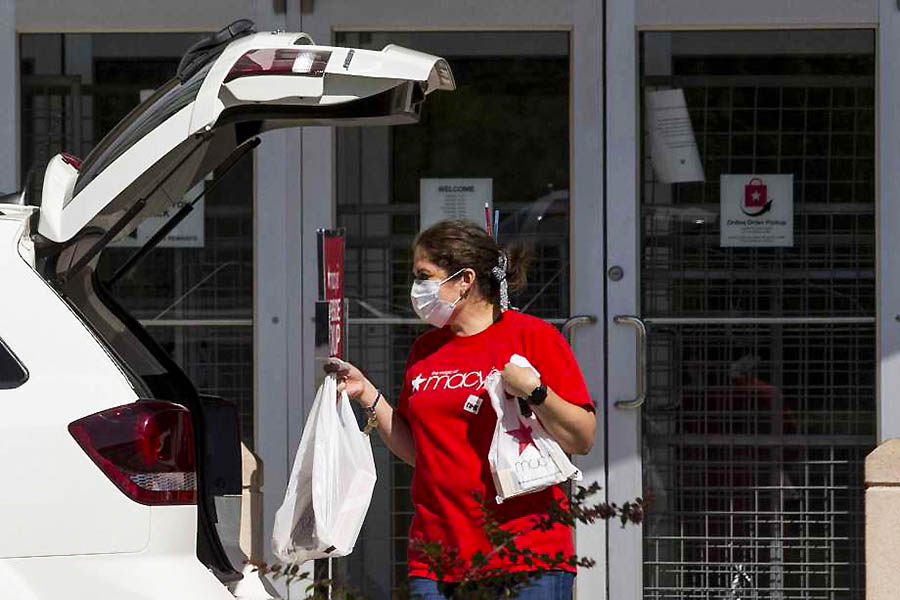 Macy's previously announced changes to its shopping experience with the reopenings including "no-touch" consultations in beauty departments and the suspension of alteration services.
Curbside pickup was rolled out as the company reopened and is now at approximately 300 stores including stores that remain closed to the public, Gennette said. He said the crisis is accelerating many of Macy's omnichannel moves and singled out curbside as the "biggest change" for the retailer. He said Macy's is finding the NPS (net promoter score) for Macy's curbside efforts is at 76 and surveys asking customers if they feel safe using curbside "is off the charts." Said the CEO, "We're seeing curbside being adopted across the board."
…
Among categories, strength in the quarter has continued in beauty, activewear remains "very strong," and sleepwear and fine jewelry picked up strong in the last two weeks of April. Kids were strong throughout the quarter and home, including home décor and mattresses, sold well. Furniture has been strong online as well as in stores as they've reopened. Softer areas have been apparel overall. Ready-to-wear and sportswear areas both remain challenging, although they're currently underpenetrated versus what the company typically carries both online in-store.
The Cincinnati-based retailer said it expects to report a first-quarter loss in the range of $905 million to $1.1 billion.
The loss includes $300 million in inventory write-downs due to store closures. The loss also reflects several steps to reduce costs and preserve cash as precautionary measures including temporarily furloughing the majority of its employees as stores were closed. Other steps have included reducing pay for all senior management and lowering marketing and other expenses.
The higher loss further reflects lower credit revenues. Stores are Macy's best channel for acquiring new accounts. Macy's is also seeing balance payments decelerate and delinquencies accelerate because of increased unemployment and general uncertainty in the marketplace. Macy's, in partnership with Citi, is offering customers the ability to opt into a deferral program that will allow them to pause their account for 60 days to delay the delinquencies. Said Paula Price, Macy's CFO, "We know that maintaining loyal customers is so critical."
…
Net sales in the first quarter fell about 45 percent to between $3 billion and $3.03 billion. Macy's closed its locations on March 18. The performance in February was "very solid" and in line with expectations, but a "precipitous" decline in sales arrived in March due to store closures.
Cash and cash equivalents rose by 107 percent to $1.52 billion at the end of the quarter as total debt rose to $5.66 billion from $4.72 billion. Macy's is in discussions with its banking partners for additional financing that will improve its financial flexibility.
In February, Macy's announced plans to permanently shutter around 125 stores over three years. Around 30 stores were slated to close in early 2020. Price said that Macy's is reevaluating the permanent closings and "taking a hard look at both the number of stores …  as well as the timing."
The closures are part of a turnaround plan aimed at cutting $1.5 billion in costs that also includes reducing 2,000 corporate jobs and closing several offices including its dual Cincinnati headquarters.
Macy's' also announced that Price, who previously announced plans to step down from her role on May 31, would remain with the company as an adviser through November 2020. She will be replaced by Felicia Williams, SVP, controller and enterprise risk officer, on an interim basis.