10 Apr

NRF: Imports Climbing But Below Pandemic Peaks

Import cargo volume at the nation's major container ports should climb steadily through the summer but will remain below record-setting levels seen during most of the pandemic, according to the Global Port Tracker report* released by the National Retail Federation (NRF) and Hackett Associates.

"Last spring and summer were the busiest ever as consumers spent freely and retailers brought in merchandise to meet demand," NRF Vice President for Supply Chain and Customs Policy Jonathan Gold said. "This year won't repeat that, but the numbers we're expecting would have been considered normal before the pandemic. The priority at the moment is resolving labor negotiations at the West Coast ports and avoiding any self-inflicted supply chain challenges on top of those we've faced the past three years."

Last month the NRF sent a letter signed by 238 national, state and local trade associations to President Biden, encouraging further engagement by his administration in the West Coast talks. NRF President and CEO Matt Shay also met with the Port of Los Angeles Executive Director Gene Seroka at NRF headquarters in Washington, D.C., to hear the latest developments regarding the status of the negotiations. The contract between the International Longshore and Warehouse Union and the Pacific Maritime Association expired on July 1. Workers remain on the job, but many shippers have shifted cargo elsewhere to avoid potential disruption.

"Compared with last year, the flow of import containers on the West Coast continues to decline along with demand as carriers increasingly drop service to Los Angeles-area ports but stretch voyages to include other ports of call to help absorb excess capacity," Hackett Associates Founder Ben Hackett said. "Meanwhile, freight rates have been impacted by the fall in demand, but new ships are starting to show up, and more have been ordered—a sign that carriers expect demand will improve by the time the new vessels are delivered."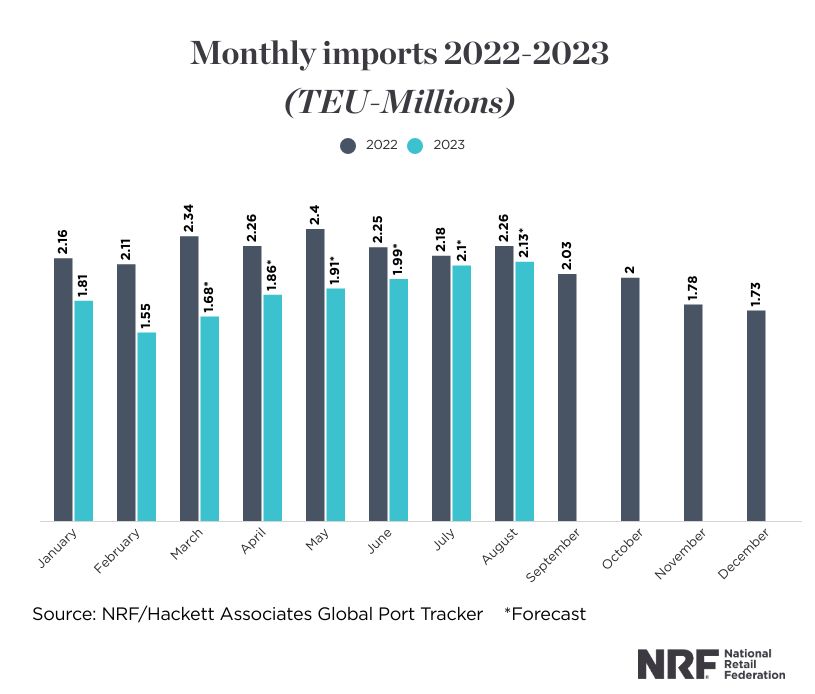 U.S. ports covered by Global Port Tracker handled 1.55 million Twenty-Foot Equivalent Units, one 20-foot container or its equivalent, in February, the latest month for which final numbers are available. That was down 14.4 percent from January and down 26.8 percent year-over-year.
Historically, February is the slowest month of the year, but the number was the lowest since 1.53 million TEU in May 2020, when many factories in Asia and most U.S. stores were closed due to the pandemic.
Ports have not yet reported March numbers, but Global Port Tracker projected the month at 1.68 million TEU, down 28.2 percent year-over- year.
April is forecast at 1.86 million TEU, down 18 percent from last year; May at 1.91 million TEU, down 20.1 percent; June at 1.99 million TEU, down 11.8 percent; July at 2.1 million TEU, down 3.9 percent, and August at 2.13 million TEU, down 5.9 percent.
The large year-over-year declines were skewed by unusually high volumes last year. A 20-month streak of totals above 2 million TEU that began in 2021, including an all-time monthly record of 2.4 million TEU in May 2022, did not end until last November. By comparison, imports averaged 1.8 million TEU per month during pre-pandemic 2019.
The first half of 2023 is forecasted at 10.8 million TEU, down 20.2 percent from the first half of 2022. Imports for all of 2022 totaled 25.5 million TEU, down 1.2 percent from the annual record of 25.8 million TEU set in 2021.