15 Mar

Skechers To Launch Garfield Collection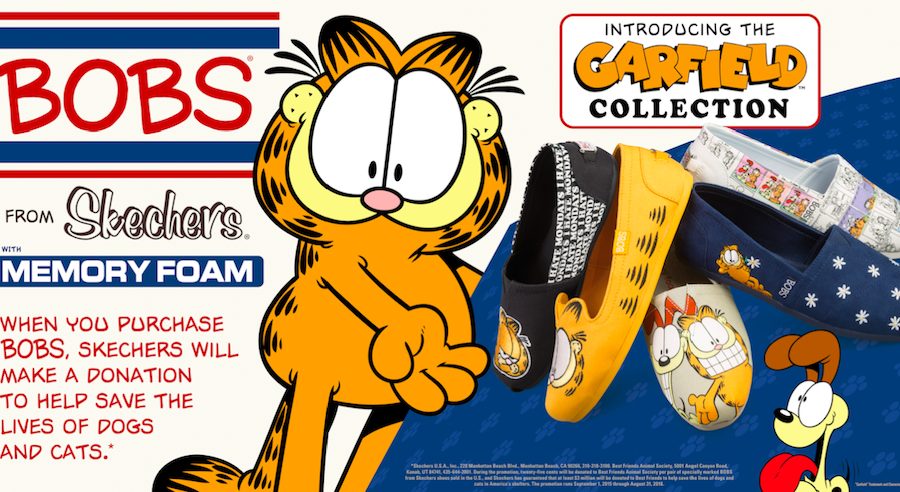 Skechers USA Inc. announced that it will introduce a collection within the BOBS from Skechers division featuring the massively-popular Garfield character – star of the popular syndicated comic strip.
The new line for women will include an assortment of comfortable BOBS from Skechers styles with designs that utilize Garfield as well as his canine sidekick, Odie.
"We are thrilled to be introducing Garfield—possibly the most famous cat on the planet—to our BOBS collection," said Michael Greenberg, president of Skechers. "Thanks to our efforts saving the lives of dogs and cats, pet lovers have been drawn to BOBS. And now with the help of global pop-culture icon Garfield, we're reaching a broader fanbase and generating more important awareness for the needs of sheltered dogs and cats everywhere."
Launched by cartoonist Jim Davis on June 19, 1978 and adored by fans around the globe, the Garfield comic strip appears in 2,100 newspapers, is translated into 42 languages and is read by over 220 million people every day. With books, television series, feature films and more expanding the character's reach for 40 years, the Mondays-hating feline continues to be massively popular, with 16.2 million likes and 15.7 million followers on Facebook alone.
The BOBS for Dogs campaign partners with Best Friends Animal Society—the only national animal welfare organization dedicated exclusively to eradicating the deaths of about two million dogs and cats every year in America's shelters. For each pair of specially-packaged BOBS from Skechers sold in the United States, twenty-five cents is donated to Best Friends to help save the lives of dogs and cats in America's shelters. Skechers has committed to donating at least $3 million dollars to Best Friends for the promotion, Best Friends' biggest cause marketing partnership to date.
The Garfield collection from BOBS by Skechers for women will be initially available in select Skechers retail stores across the United States and Canada and online at www.Skechers.com. Availability will expand to third-party retail partners and around the globe for back-to-school season later this year. Products in the line will be designed, developed and marketed through a multi-year licensing partnership between Skechers and Garfield licensing manager, Paws, Inc.