22 Apr

Vans Commits To Make Core Materials 100 Percent Regenerative, Responsibly Sourced, Renewable Or Recycled By 2030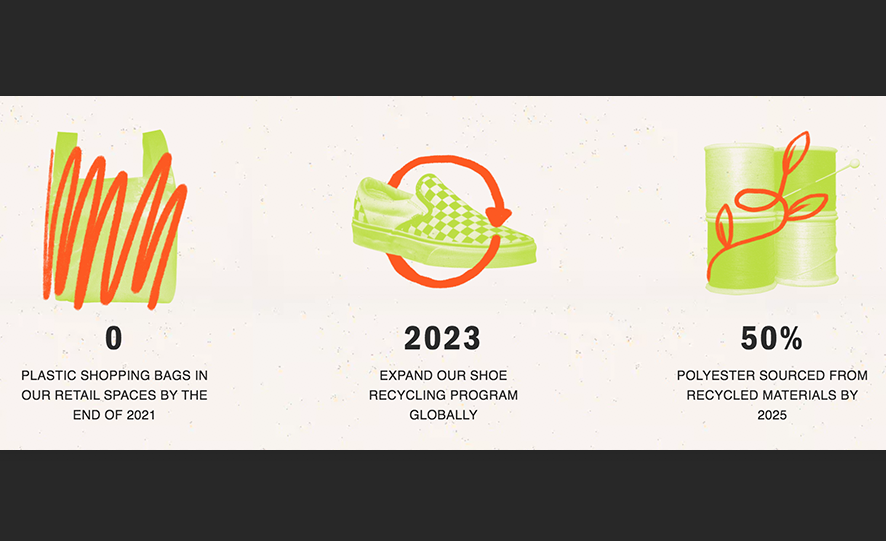 Vans announced its global commitments to environmental sustainability and responsibility by 2030. The company plans to create circular products and systems that use regenerative and recycled materials to reduce waste and keep products in use and out of landfills. 
To achieve its sustainability vision by 2030, Vans' commitments include:
By 2030, 100 percent of its top materials will be regenerative, responsibly sourced, renewable, or recycled, including rubber, cotton, leather, and polyester. The company will also commit to a 43 percent carbon reduction by reducing the average impact of top materials by 35 percent by 2025; using 50 percent recycled polyester by 2025; and sourcing 100 percent sustainably grown cotton by 2025.

By 2030, Vans will pilot and scale regenerative, recycled and responsibly sourced materials covering 85 percent of the brand's materials. When combined with other programs, including working with suppliers to implement renewable energy in its supply chain, the move to regenerative, recycled and responsibly sourced renewable materials will help the company achieve its goal of a 30 percent absolute reduction of scope 3 carbon emissions from a 2017 baseline. This includes: (a) Piloting and scaling regenerative agriculture practices on farms and ranches that produce rubber, cotton and leather then using these materials in its products; (b) exploring bio-based alternatives with lower carbon footprints than traditional petroleum-based synthetic materials; and (c) converting virgin polyester used in our footwear, apparel and accessories to recycled sources.

By 2025, Vans is committed to eliminating all single-use plastic packaging and reducing waste at every point of its business model. This includes (a) no plastic shopping bags in its retail spaces by the end of 2021; and (b) remaining packaging will be minimized, originated from sustainable sources and designed for recyclability.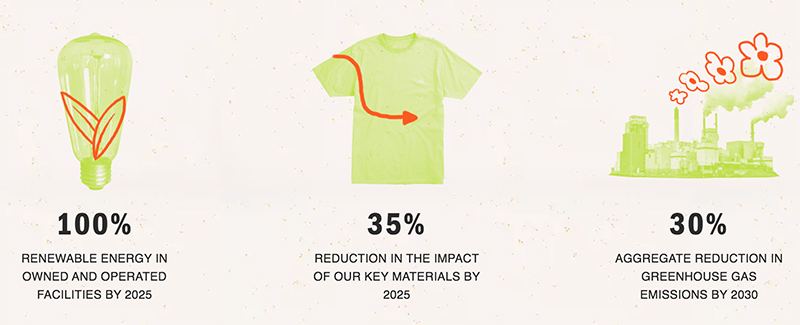 Vans is working toward converting all owned and operated facilities to 100 percent renewable energy by 2025. In 2017, the company began this transition by installing a 1 MW solar array at its headquarters, achieving a LEED platinum certification. This mission extends beyond its headquarters, with the goal to have all owned and operated facilities converted by 2025. 
Vans partners, including Terra Genesis, who generate regenerative rubber, and Indigo Ag, who supplies cotton, will work closely with Vans to achieve its sustainability goals. 
To track the progress of Vans' global sustainability vision and to learn more, go here.