05 May

Wearing some new Choos: The footwear label heads in new directions

L.A. is a place of new beginnings. So it's appropriate that British luxury brand Jimmy Choo should choose the city to put its best foot forward.

A new store design concept on Rodeo Drive, a star-studded Hollywood bash at the home of art collector Eugenio Lopez Alonso featuring a performance by pop band Bastille and the launch of a youthful new rock 'n' roll-themed shoe collection are all part of a bold, new direction for the label and its creative director, Sandra Choi.

Choi has been with the company since its birth and took over as sole creative director last year. Now she's trying to steady the ship after years of headline-grabbing business dramas that have included the brand's estrangement from her uncle, the company's namesake founder, Jimmy Choo, and a tell-all book by the company's co-founder and former designer, Tamara Mellon.

"Jimmy Choo is a celebration, and it makes people light up," Choi said over breakfast recently at the Chateau Marmont. "It's a new chapter. But I don't want to change the whole thing. It's more about modernizing it. I want the brand to have all the ingredients to carry on. That's beyond me. That's beyond any single person."

The new store concept, which opened April 15 on Rodeo Drive, will be a blueprint for the brand going forward. It's designed by David Collins Studio (the late Irish architect is known for designing tony London restaurants such as the Wolseley and Gordon Ramsay) with soft hues and textures creating the feeling of a haute couture salon mixed with the intimacy of a fantasy closet.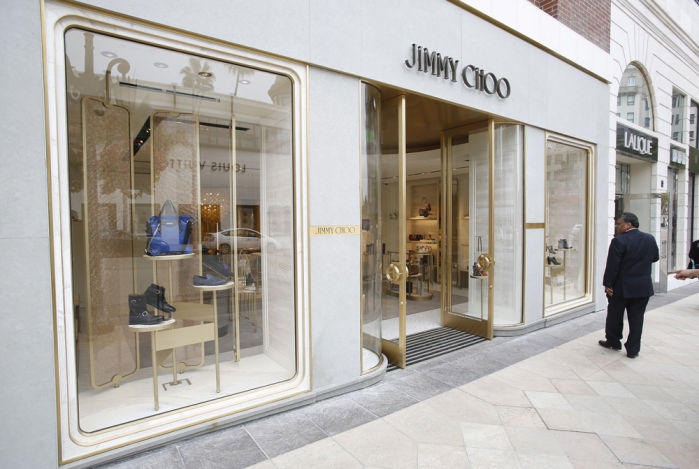 The store is the first in the U.S. to carry men's and women's footwear and accessories side by side and the first in the world to feature Choo.08, a new collection with a more downtown spirit "moving away from the stiletto and into brogues, combat boots and skater shoes," Choi said.
Also new: a made-to-order program with prices beginning at $750 that allows shoppers to choose from a variety of silhouettes, fabrications, colors and heel heights to design their own shoes, complete with personal monograms or messages (dates, symbols or letters) on the sole.
The program debuts in Beverly Hills before moving to other stores in May.
It's fitting that the future direction of Jimmy Choo is beginning here, since L.A. has played a big part in the brand's past.
The Malaysia-born Choo founded his small couture shoe business in the East End of London in 1986, catering to the jet set, including Princess Diana.
Soon he was joined by Choi, who worked at his side on design while studying at the prestigious Central Saint Martins school. In 1996, Mellon came on. A former Vogue accessories editor who went on to marry (and divorce) billionaire Matthew Mellon, she and her fashion world connections helped transform Jimmy Choo into a global powerhouse.
In the late 1990s, Jimmy Choo was one of the first brands to take a suite at the L'Ermitage Hotel in the week before the Academy Awards to introduce stars to the shoes and place them on the red carpet. In 1998, Kate Winslet wore green pointed-toe pumps dyed to match her Alexander McQueen for Givenchy Oscars gown and mentioned the shoes on the red carpet.
"It was so instant," Choi remembered. Jimmy Choo opened its first L.A. store the next year.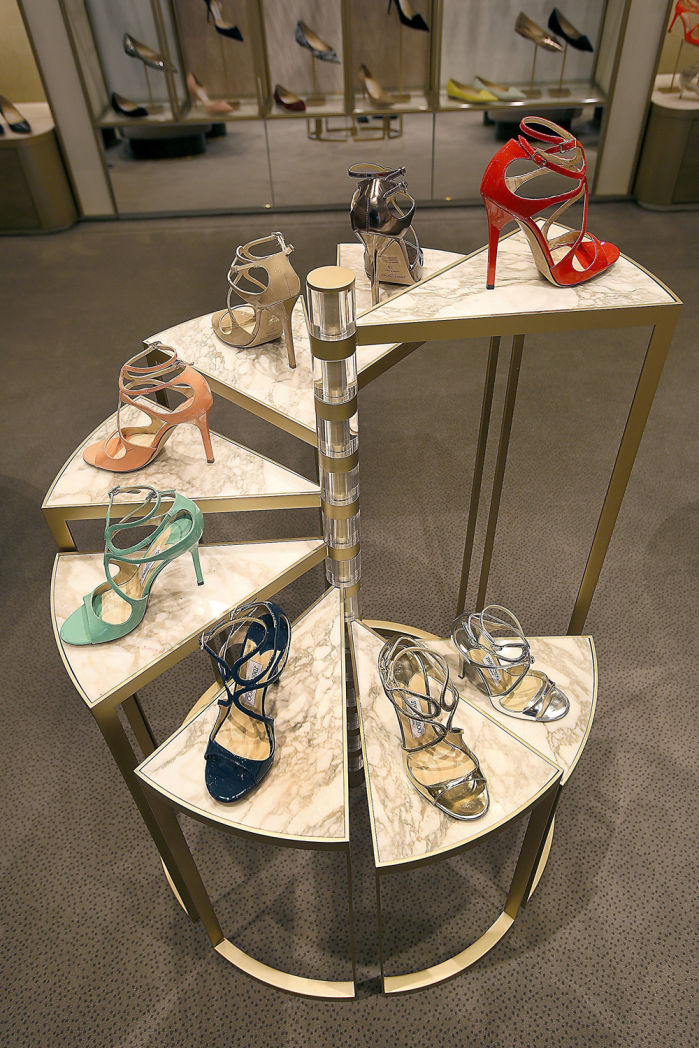 The red carpet gave the brand worldwide exposure. In 2002, Halle Berry wore red Jimmy Choos with her red Elie Saab gown when she became the first African-American woman to win a lead-actress Oscar.
"Back then, it was more about matchy-matchy. And there was no toe cleavage," Choi said. "We did hand painting and jewels. We had an exclusive on a local cobbler for awards show season."
The brand was further immortalized in pop culture after a story line on the hit TV series "Sex and the City" that had main character Carrie "losing her Choos."
First Lady Michelle Obama is an avowed fan — she wore Choos the night of her husband's first presidential Inauguration — and so is the duchess of Cambridge.
The label cultivated a hedonistic, the-higher-the-heel-the-better image under the direction of Mellon, whose model good looks shone in advertisements and on the global social circuit. But as the collections grew, the brand became more inclusive.
"One of the nice things about the brand is that it can be so many things, a resource for heels for professional women, and a resource for biker boots for running around on the weekends," Choi said.
Now Jimmy Choo sells men's and women's shoes and leather goods, sunglasses, belts, scarves and fragrance at prices ranging from $395 to $3,250.
In many ways, future growth opportunity lies in further diversification, geographically and product-wise.
The company, owned by luxury group Labelux, is said to be gearing up for a public offering. New stores are planned in Asia. Men's footwear is a fast-growing category, and there is a lot of potential in handbags, Choi said.
Although the brand hasn't had an "It" bag, per se, the acrylic "Candy" clutch style has been brought back season after season. For the L.A. opening, Choi created a limited-edition version of the clutch printed with black and red typography on a white background. It reads, "BLAH, BLAH," a play on the abbreviations for Beverly Hills and L.A. and the fast-talking style of La La Land.
But Choi means no disrespect.
"L.A. has always felt like our spiritual home," she said. "It's guaranteed positivity."